Curved Track Blinds
At Weston Blinds we supply and fit Curved Track Vertical Blinds in an extensive range of colours and quality fabrics featuring contemporary colours and textures as well as the classic creams and whites.
To install Curved Track Blinds in an average 5 panel bay window (width 2600mm, drop 1600m) would cost around £340 including fitting by an experienced blind fitter. We do however we offer a 20% discount if you fit them yourself.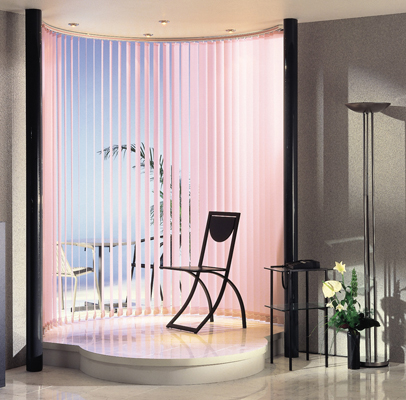 In both modern architecture and traditional housing alike, curves, arches and bay windows are common features and Curved Track Vertical Blinds are ideal for large bay windows as the aluminium track can be shaped to fit your window. Special bending techniques allow the aluminium head rail to be curved into an arch or a bay and still allow the blind to function.
All blinds that we fit will comply with the recent child safety regulations and all blinds we supply will have the safety device attached.
Why choose Curved Track Blinds from Weston Blinds?
Excellent value for money
Huge range of styles, fabrics and colours
All the top brands
More than 30 years experience
Free standard fitting or 20% discount if you fit them yourself